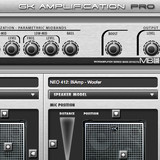 Audiffex has released version 1.0.5 of GK Amplification, an amp simulation plug-in including models of Gallien-Krueger amps and speakers.
GK Amplification is a model of the Gallien-Krueger most famous devices. It allows to select one of several amplifiers followed by a speaker selected from several models. The pro version furthermore allows parallel selection of two speakers.
Changes in GK Amplification v1.0.5
Buffer indexing problem fixed.
Link to GK added to the ? menu.
Quality setting and saving fixed.
Updating of GUI improved.
Visit Audiffex for more information.