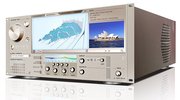 Audio Ease has released version 6.3.5 of Altiverb, a convolution reverb plug-in for Mac and Windows PC.
It uses top quality samples of real spaces to create reverb, ranging from Sydney Opera House to the cockpit of a Jumbo Jet. Altiverb 6 offers the most extensive set of parameters, it supports all professional plug-in formats including protools TDM on the Mac, parameter automation and surround. Altiverb 6 gives you a choice between iLok SmartKey or Challenge/response copy protection, it lets you sample your own spaces (currently Mac only), and Altiverb is efficient on your cpu.
Changes in Altiverb v6.3.5
[Mac] Fixed a crash in OpenGL.
[ALL] Dry/wet mix settings are restored correctly (after a bug introduced in 6.3.3).
More information: Audio Ease / Altiverb