Audio Ease has released version 2.1.4 of Speakerphone, an impulse-response based speaker emulator, a convolution reverb and a sample player all in one.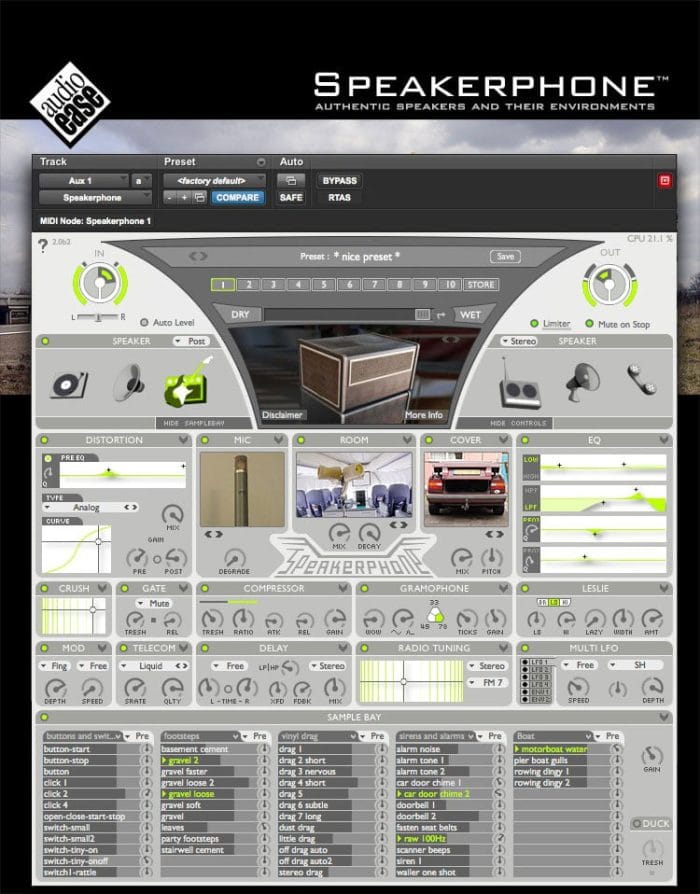 A bad GSM connection on a busy sidewalk, a bullhorn with feedback and a helicopter overhead, or a 1952 rockabilly guitar amp in a recording studio live room: The Speakerphone audio plug-in gives you authentic speakers of any size together with their natural environments.
Changes in Speakerphone v2.1.4
Runs in Pro Tools 10.3.10.
Compatibility issues with Digital Performer 8 fixed.
Compatibility issues with Cubase 8 & Nuendo 7 fixed.
Mac: Installer is signed.
Mac: Installer removes old .dpm plugin.
Samplebay drag and drop is possible again.
Samplebay Loops play properly.
More improvements to sample player.
Mouse rollover in sample bay works again.
Midi works in Logic.
Audio Suite has bypass button.
Audio Suite crash solved.
Win: Solved a few UI problems.
A new sample folder can be selected.
Several smaller issue were solved.
'Mute on stop' problem fixed.
Enhancements in operability on consoles, S6 in particular.
Cover-pitch issue with audiosuite fixed.
Speakerphone 2 is available for purchase for 395 EUR ex. VAT.
More information: Audio Ease / Speakerphone