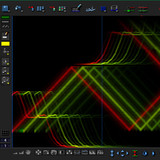 Audio News Room has announced a limited-time offer for U&I Software MetaSynth 5, a composition and sound design program using a strictly visual interface, with customizable tunings and image synthesis.
Do you know what musicians, producers and sound designers like Dane Davis (The Matrix, etc.), Richard Devine, Ian Boddy, Junkie XL, Sasha, Aphex Twin, Barry Jamieson, Michael Fakesh, Michael Bierylo (professor at Berklee) and many others have in common (besides a good amount of talent, of course)? A sound shaping tool like Metasynth. In short, Metasynth (OS X only, no Windows version) is a unique suite of sound manipulation apps, all living under the same roof. In MetaSynth's environment sound and visuals are strongly connected to each other, and you can literally shape your sounds. By the way, Metasynth 5 just made BeatPortal.com's 2009 Technology Top 10, and it's on the list for our upcoming Sonic Joy Awards 2009.

Unfortunately this software, like all professional tools, is not cheap. It usually sells at 599$ but…

… Christmas is coming and we're quite excited to announce that U&I Software is offering AudioNewsRoom readers a special $200 discount on MetaSynth 5, which makes the final price quite inviting (399$, or approx. 275 euro).
This special offer is available until December 26, 2009 (and includes other U&I applications, like the ArtMatic graphics/animation synthesizer).
More information: Audio News Room