Audiofier has released a new rhythms and loops combinator for Native Instruments Kontakt. Xtyles features 8 layers of loops which can be randomized at slice level.
Prepared in Major and Minor versions, these loops will follow your composition, with melody, rhythm, and sounds improvisations to spice up your track.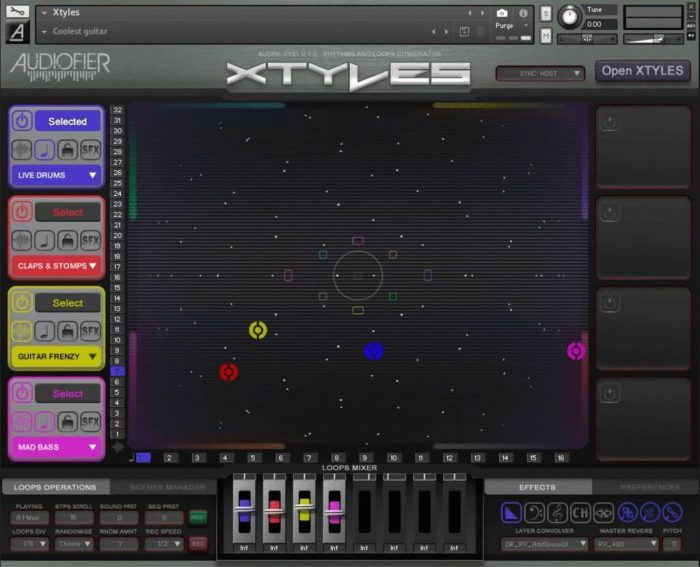 In a generation of producers who make extensive use of loops in their music, there might be a sense of stale productions. Musical loops can be pitch-shifted and time-stretched, but they can't follow your music. Your music ends up following the loops. One can cut, splice, mangle, edit loops to make them kind of unique, but repetitions of loops make music less interesting and exciting.

Enters Xtyles, with features that allow loops to follow your music and inject life and excitement in your songs and music compositions. Xtyles is indeed a collection of loops, but these loops can be turned from major to minor and vice versa. Not only can they be time-stretched and edited, but it all happens on the fly, as a result of pressing a button, or a key, commanding an improvisation or a total reworking of a performance.
Xtyles features
640 Loops in 20 categories, presented in Major and Minor versions.
Loops mapped according to Pitch to follow any Key.
Up to 8 layers per scene, 8 recallable scenes (via Key switch).
8 predefined Xtyles to generate new loops combinations.
4 user Xtyles to generate new loops combinations.
Up to 32 sounds per layer per step sequence.
32 sounds sequences presets.
32 loop sequences presets.
Independent pitch per layer.
30 Presets Snasphots.
Transient designer, Bass & Treble enhance, Chorus, Convolver per layer.
Master Convolution Reverb and Delay.
Master Delay, Master Algorithmic, and Convolution Reverb..
Convolver.
Step Volume.
Step Filters.
Host, half time and double time syncing.
Full re-ordering of slices, with randomization, 8 scenes slots.
Manual recording of sequence and step edit feature.
Xtyles for the full version of Kontakt 5.8.1 or higher is on sale for the intro price of $45 USD until November 20th, 2020.