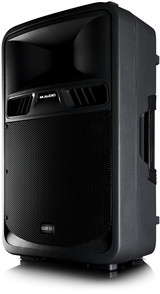 Avid has introduced the M-Audio GSR active sound reinforcement speaker series for musicians and DJs who perform in small to mid-sized venues.
Built from the ground up by the same engineering team behind the industry-leading M-Audio studio reference monitor line, the GSR series includes 10" and 12" full-range PA cabinets that deliver exceptional, professional-quality sound and an 18" subwoofer that offers extended bass reproduction for larger venues.

The GSR speakers are ergonomically designed and engineered with lightweight components for maximum portability. The GSR10 250-watt and GSR12 300-watt two-way active PA speakers feature Neodymium magnets in the low-frequency drivers, substantially reducing overall weight to enable easy set-up and transport between venues. The GSR18 500-watt active subwoofer features four locking casters that make it easy for customers to roll the sub into position. All three models are built with lightweight, ultra-efficient Class D amplifiers, which provide sustained high-output levels with minimum distortion and extremely low heat, so customers will experience clear, even sound through extended periods of use.
Additional features include
Four EQ presets designed for multiple applications

—Allow customers to optimize the GSR10 and GSR12 to meet the needs of any sound setting, including DJ, live performance, music playback and public address. Variable low-frequency crossover functionality in the GSR18 enables customers to easily tune the subwoofer for use with GSR10 and GSR12 full-range speakers, or any other full-range speaker, for flat frequency response.

Expansive, professional-quality sound

—Provide wide dispersion and excellent off-axis response for balanced sound throughout any venue with exclusive OptImage wave guide technology in the GSR10 and GSR12 models.

Flexible set-up options

—Deliver broad sound coverage in any venue by allowing customers to position the GSR10 and GSR12 from built-in 1.4" pole mounts, suspend them from M10 integrated fly-points, or stack and lock identical units on top of each other for optimal placement. The GSR18 features an integrated 1.4" speaker stand receptacle for added versatility, allowing customers to save space by conveniently securing a speaker above the subwoofer.
The GSR10 is available in certain regions worldwide beginning September 13 for $499 USMSRP. The GSR12 is available worldwide September 10 for $629 USMSRP, and the GSR18 is available worldwide beginning November 1 for $999 USMSRP.
More information: Avid / M-Audio GSR