FXpansion has announced the release of DCAM: Synth Squad Artist Presets Volume 2, a collection of presets for its DCAM: Synth Squad.
A collection of over 150 brand new presets custom-designed by our roster of featured artists. Also included in this preset pack are a set of Fusor patches from our own Recreations video!

Artist Presets Volume 2 is available to all registered DCAM: Synth Squad users from the download section of your account.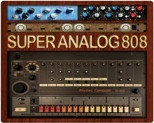 FXpansion also announced the release of Goldbaby SuperAnalog808 for GURU, a 24 bit/96 kHz sample pack available for the GURU virtual drum instrument.
Punchy, warm, analog drums with round-robin layering. Using high-end outboard and compulsive attention to detail, this 808 sample set is pure analog drum heaven.

Why another TR-808 sample set?
"For a start the 808 is one of my favorite drum machines! Secondly, I thought I could offer something a little different. This sample pack has been recorded at a higher sample rate and has extensive Round Robin treatment to recreate the feel and movement of an analog drum machine. The Tape808 used tape to give it extra mojo – this time I have used some new high end outboard. Tasty…" – Hugo @ Goldbaby
More information: FXpansion / Goldbaby Productions