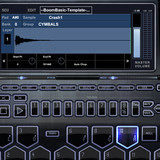 Beat Kangz is offering a time limited offer on The Beat Thang Virtual, a beat production software for Windows and Mac.
The Beat Thang is unique in many ways but very simple for you to understand. When it comes to hip hop beat production, we guarantee you the Beat Thang beat machine software to be the easiest hip hop beat maker software on the market. The days of paying $2000 – $4000 on a quality beat machine are over! You are about to be surprised at what you get with the New Beat Thang Virtual and what it can do for YOU!
The Beat Thang Virtual features
Over 3000 High Quality Professionally Mastered Sounds.
Easy to use Real Time Sequencer. Create patterns in real time using quantize, swing, tap tempo then string them together in SONG mode. The resolution is 960 PPQ to give you extra tight beats if you want them–OR you can adjust the PPQ to 96 for that classic MPC feel.
16 tracks with individual bar lengths so you can create patterns that can be performed and remixed on the fly.
Use your computer keyboard, any USB pad or keyboard controller or Keyboard to bang out your beats.
High Quality Sampler & waveform editing. Sample your own sounds using your computer's built in mic and line input or sample any audio playing on your Computer including YOUTUBE.
Edit sample start and end times. Process samples using features like normalize, reverse and resample.
One octave piano keyboard style pad layout with 8 banks so you can bang out beats or play melodies and chords on the keys.
Mixer with built in FX. Change track, Volume and pan levels and Sequence Pitch Changes and Filter sweeps. Add 24bit reverb, delay, flanger, phaser, pitch shift, old record and many more.
Add BANG with onboard mastering for that perfect Punch.
Export your Songs, Beats or Tracks as .wav files in Real Time for a DJ Style Mix or Non Real Time and drag them into your favorite recording program (protools, cubase, logic etc).
Edit Kits in realtime while the Beat is playing.
Change The Look with Multiple Skinz.
Patterns (Beats), Kits and Instruments open with VIRTUALLY NO LOAD TIMES so the party don't stop.
Connects seamlessly with Beat Thang Hardware.
FREE Lifetime software updates.
The Beat Thang Virtual is currently available to purchase for $99.99 USD (regular $149.99 USD).
More information: Beat Kangz