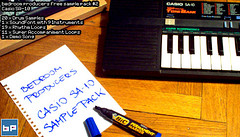 Bedroom Producers has released a free Casio SA-10 Sample Pack.
Tomislav writes:
Many of my friends had toy synths when they were kids. Yes, and I've never had one. Not even a cheap chinese model. Can you imagine how happy I was when I got this little 80's Casio a few days ago? Well anyway, the same moment I heard it's cheap and dirty sounds, I new I had to record them and make a new sample pack.
Casio SA-10 Sample Pack features
20 drum samples.
1 SoundFont with 9 instruments.
19 rhythm loops.
11 super accompaniment loops.
1 demo song.
The Casio SA-10 Sample Pack is available as a free download.
In case you missed it earlier, make sure to also check the free Commodore 64 [SID 8580] MSSIAH Drummer Drum Kit here.
Visit Bedroom Producers for more information and audio demos.