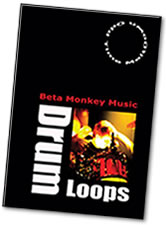 Beta Monkey Music has released Odd Time Meltdown II, a collection of Drum Loops and Samples for Rock, Fusion, and more.
Need grooves that take you out of that 4/4 rut? Odd Time Meltdown offers a dynamic collection of odd meter grooves built to inspire your next rock or fusion track. Meters covered include 3/4, 5/4, 7/4, 5/8 and 7/8 with a generous tempo span – 60 bpm to 150 bpm. Odd Time Meltdown II features over 350 powerful and tasteful acoustic grooves captured in one of Los Angeles' premier recording rooms.

Odd Time Meltdown II is a complete package, featuring a wide variety of grooves in a versatile range of tempos as well as a complete multi-velocity sample set taken from the drums used to record the loops. Get your groove on in 3, 5, and 7. Odd Time Meltdown II will take your playing and songwriting to the next level.

Let the odd times roll some more!
Odd Time Meltdown II features
Dynamic Grooves:

From slow hypnotic grooves to powerfully complex up-tempos, Odd Time Meltdown II delivers a versatile collection of contemporary and classic odd time grooves in variants of 3, 5, and 7. All loops are infinitely compatible, allowing projects to make use of multiple meters and tempos. With a seasoned pro behind the kit in one of L.A.'s best drum rooms, the emphasis is on longer loops for greater realism in your next rock or fusion project.

Cohesive Drum Sounds:

All drum loops are taken from the SAME recording session (all grooves, fills, one shots, etc. are sonically-matched). Like to change tempos or time signatures? You can mix any loop with anything else on the disc. The bottom line here is maximum versatility.

Fully-Sampled Drum and Cymbal Samples:

Build even more great grooves with a complete multi-velocity sample collection of all the drums and cymbals recorded on Odd Time Meltdown II. Create realistic grooves, augment the loops, create breaks, stops, and accents – having the full matching sample set gives you total flexibility.
360 (694 MB) original, license-free drum loops and samples.
230 (173 MB) multi-velocity drum and cymbal samples.
Available in 16/44 acidized WAV, 24/44 acidized WAV, and 24/44 APPLE LOOPS formats.
Odd Time Meltdown II is available to purchase for $39.99 USD.
More information: Beta Monkey Music / Odd Time Meltdown II