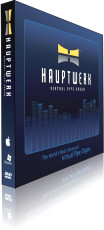 Milan Digital Audio has released version 3.30 of Hauptwerk, a state-of-the-art virtual pipe organ instrument software application for PC and Mac.
Used for study and practice by professional and amateur organists, organ enthusiasts, and organ students, Hauptwerk is the world's leading virtual pipe organ software providing high resolution audio and unparalleled flexibility in MIDI interfacing with digital organ consoles and pro-audio applications.
Changes in Hauptwerk v3.30
Mac OS X 10.6 (Snow Leopard) and Windows 7 supported.
Polyphony testing organ bypasses polyphony limit and other user settings to allow more convenient and consistent measurements of hardware performance capabilities.
Polyphony limit setting automatically re-defaults, based on estimated computer performance, when switching from a smaller Hauptwerk edition to a larger one.
Key limitations of evaluation/Free editions clarified on start-up.
Polyphony limit setting now accepts a minimum value of 256 simultaneous pipes/voices.
Maximum buffer size of 1024 frames for ASIO and Core Audio drivers and 2048 for DirectSound drivers.
Documentation: new user guide sections for un-installing and changing installation locations.
Hauptwerk is available to purchase for PC and Mac in a Basic Edition for $249 USD / 199 EUR, and an Advanced Edition for $599 USD / 449 EUR.
More information: Hauptwerk