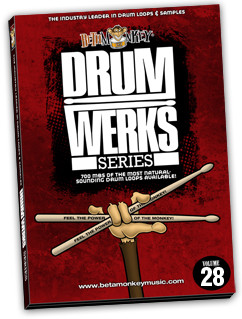 Beta Monkey Music has announced Drum Werks XXVIII, a new drum loops library that delivers the energy and power to your rock drum tracks.
In this high-energy library of rock drum grooves, we've mixed the feels of uptempo Bonham-esque rock, Bun E Carlos-flavored power pop, and Dave Grohl alt-rock in one powerhouse set of grooves that will push your music hard.

Want to take your tempos up a notch? Drum Werks XXVIII serves up the high-octane rock drum loops with no apologies. Perfect for fans of John Bonham, Simon Phillips, Alex Van Halen, and Dave Grohl, this is the groove inspiration you've been looking for in rock drum loops. Pure, live rock drums. No beat detective. No sequenced samples. This is live, steaming, sweaty, raw rock and roll – the way it was meant to be.

In a focused range of tempos covering 125 bpm through 180 bpm, Drum Werks XXVIII: High-Octane Rock offers powerful live drumming to cover hard rock and classic rock as well as alt, power-pop rock drum styles. Organized in tempo-specific 'Groove Folders' you'll get all the rhythms you'll need to create your next rock song: verse, chorus, bridge, fills, and more.

If you can drag and drop audio loops, then you can create professional rock drum tracks instantly with Drum Werks XXVIII: High-Octane Rock.
The sample library is available to purchase for $29.99 USD.
More information: Beta Monkey / Drum Werks XXVIII