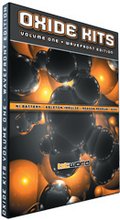 Bitword has released a new version of Oxide Kits Vol 1, a collection of drum kits now including kits for FXpansion GURU.
If you are looking for an electro-organic drum solution, these kits will thud – stomp and clank your problems away. Excellent for the styles of IDM and Industrial, these kits can be easily utilized for a distinct vibe and flavor in all variants of Electronica, Hip-Hop and Alternative Rock. Multimedia and Film Composers will also find inspiration in this diverse collection of drum kits.
Oxide Kits Vol 1 features
Reason ReDrum: 191 kits – 108mb.zip
Ableton Impulse: 275 kits – 104mb.zip
NI Battery 3+: 33 kits – 226mb.zip
GURU: 191 kits – 489mb.zip
WAV: 1,066 files – 224mb.zip
Each format is pre-mapped using all of the sample content.
Each format includes all of the same sample data, and while the kits are mapped as close as possible to match each format, there are some differences, such as pads per kit, filters, and ADSR – all given the proper tweaking for each drum sampler.
Oxide Kits Vol 1 (multiformat) is available for download for $59 USD.
A special discount of $10 USD is available until 08-10-2008. Just enter the coupon code GURU at checkout. The coupon is valid for any, or all of the formats.
Visit Bitword for more information and audio demos.