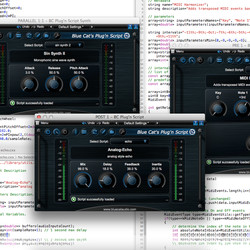 Blue Cat Audio has released version 1.1 of Blue Cat's Plug'n Script, a new version of the scripting plug-in that can be programmed to build custom audio and MIDI effects or virtual instruments inside most Digital Audio Workstations (DAW).
This new version mainly adds MIDI FX support for Logic Pro X, new controls in the user interface, new audio file player and recorder scripts, as well as new programming interfaces for scripters.

A few bugs have also been fixed (details below). For this new release, Blue Cat Audio has also opened a scripts repository on GitHub for script writers and developers to share their scripts and experience.
Changes in Blue Cat's Plug'n Script v1.1
Audio Unit can now be loaded as a MIDI effect in Logic Pro X.
The user interface now displays switch buttons for Boolean parameters instead of knobs.
Discrete parameter values can now be selected from a dropdown menu.
New API: scripts can now use plain strings as user input.
New API: scripts can now read and write files.
New scripts and presets: added audio player and recorder scripts and a wave file utility class.
Developers can now share their scripts on a dedicated Gather repository: https://github.com/bluecataudio/plugnscript.
Fixed: implemented pass-thru for MIDI events when no processing function is declared (default script for example).
Fixed: Audio Unit Synth version did not appear as an Instrument.
Fixed: script was reloaded when starting playback in Reaper, and the effect was not applied immediately.
The plug-in is available for purchase at a 25% introductory discount until October 15th, 2014, priced at 59 EUR/$74 USD (regular 79 EUR/$99 USD).
More information: Blue Cat / Plug'n Script