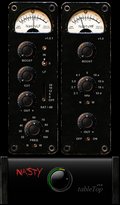 Bootsy has released the "Nasty" signal coloring fx series, a collection of three freeware VST effect plug-ins for Windows PC.
Nasty FX Series
NastyLF, a specific and tuned combination of lowend EQ and output stage.
The low frequency EQ in classic boost/cut design offers both: broad 'oldschool' as well as rather narrow 'modern' curves (switchable) altogether with a variation of that special sounding curve designs when using boost and cut in combination. A new developed output stage offers tasty lowend saturation which can virtually be driven up to 24dB with internal automatic gain compensation.
NastyHF, a specific and tuned combination of highend EQ (peak and shelve) and oversampled output stage.
The high frequency EQ offers both: broad 'old school' as well as rather narrow 'modern' curves (switchable). HF peaking is applied on fixed frequencies and the 10kHz filter performs as a shelve. Both designs feature special musical sounding curves. A new developed and oversampled output stage offers fancy and almost artefact free HF saturation prominently featuring K2 and K3 harmonics with attenuated higher harmonics.
NASTYtableTop, a low-mid frequency booster which increases perception in this frequency range by saturation.
In subtle amounts this is perceived as a kind of 'phatness' while in extreme settings this is going to be perceived as 'muddy' and/or 'distorted'.
The previously released NastyLF plug-in included in this package is an updated version with some bugfixes.
Download the "Nasty" fx series here.