Bedroom Producers Blog has launched Cassette 808, a free collection of tape processed Roland TR-808 drum machine samples, based on source material from Gregor Zemljic.
Cassette 808 includes three kits with ready to use NKI patches for Native Instruments Kontakt 5, and a selection of fully chopped up one shot samples from Gregor's original 808 recordings.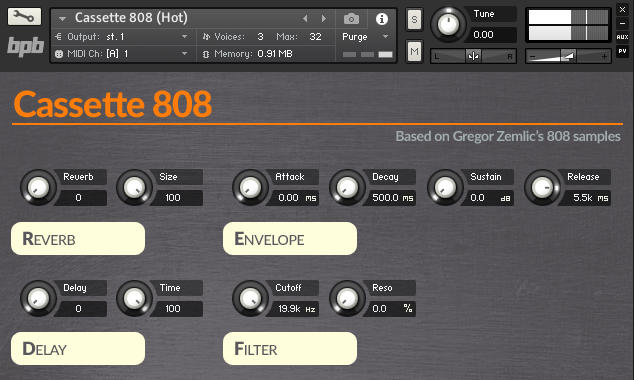 Well, these samples have definitely spent enough time collection dust on our solid state drive (yup… times are changing) and we figured this is the right moment to share them with the world. Cassette 808 is based on an amazing set of Roland TR-808 samples that was recorded by Gregor Zemljic of Earrisistible Mastering way back in 2010.

The samples were recorded in Gregor's mastering studio using the following recording chain: Radial JDI – Neve 1073 DPA – Crane song Ibis M (very slight low end/hi end boost + HPF @ 20Hz) – Crane song STC 8 (very light compression to add a bit of punch) – Crane song HEDD AD @ 24/44.1kHz.

Gregor's original 808 recordings are among the best (if not the very best) Roland TR-808 samples that can be downloaded for free. However, the problem is that Gregor's source material was provided as a collection of recording sessions, each included as a rather long WAV file. In other words, the original 808 sound set wasn't ready to use in a sampler out of the box.

That's why we decided to contact Gregor and ask him if we could edit his recordings and turn them into a ready to use sample collection. Thankfully, he said yes!
Cassette 808 features
Clean Kit – 47 clean Roland TR-808 samples. These are Gregor Zemljic's original samples, trimmed and edited for easy use in your sampler instrument of choice.
Warm Kit – a set of 22 Roland TR-808 samples that were resampled from an audio cassette at low gain. Slightly noisy and warmed up.
Hot Kit – same as the previous kit, but this time around the gain was super high. These samples are seriously distorted and gritty, so watch your speakers.
NKI patches for Kontakt 5, featuring a custom user interface with direct access to the volume ADSR envelope, low-pass filter cutoff and resonance, as well as a built-in reverb and delay module.
Total of 87 audio samples in 24-bit WAV format.
100% free.
The BPB Cassette 808 pack is a free download from BPB.
More information: Bedroom Producers Blog / Cassette 808