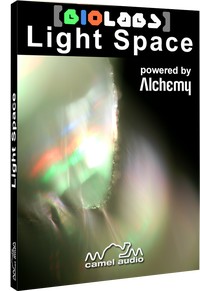 Camel Audio has released Biolabs: Light Space, a new sound library for Alchemy and Alchemy Player.
Created by respected sound designer, biomechanoid, the unique sound explorations of Light Space are filled with light and shade, movement and detail, fragile beauty and subtle shifting colours.

Featuring otherworldly, "almost real" instruments with unprecedented depth and expressive subtlety, playable textural synths, evocative atmospheres, mysterious treated bells, flexible evolving rhythmic textures and arps, restrained basses, subtle percussion and drum kits. With each patch providing a wealth of creatively twisted variations, Light Space covers a wide range of genres and moods.
Biolabs: Light Space features
75 Sounds with (600 variations).
Includes 16 Synths, 15 Soundscapes, 12 Pads, 10 Arps, 5 Keys, 5 Loops, 3 Drumkits, 3 Bass, 3 Guitar, 3 Mallets.
Nearly 1GB sampled material (24bit), providing round-robin variation and multi-layered instrumental complexity.
Biolabs: Light Space is available to purchase for $35 USD/29 EUR/£25 GBP, or as a bundle with Biolabs: Dark Space for $59 USD/49 EUR/£39 GBP.
Visit Camel Audio for more information.