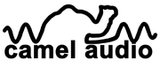 Camel Audio's presets for Absynth and Massive have been updated to KORE 2 format, making finding the presets you require even easier.
What else is new?
Owners of the Biolabs Massive soundset can now download an extra free bank of over 50 presets created by Biomechanoid, Antonio Blanca and Tim Conrardy. The bank features pads, leads, basses and atmospheres – all produced to the exacting standards of these leading sound designers.
CamelPhat and CamelSpace factory preset banks are now available in KORE 2 format, together with template KORE presets.
A utility bank of CamelSpace presets which are identical to the factory presets but with 'Mix' set to 50% is now available, ideal for applying to a complete mix, such as when using CamelSpace with DJ software.
The CamelSpace manual is now available in French, Spanish and Italian.
Existing customers can download the new updates by logging in and going to the 'my downloads' area.
For a limited time you can buy any of the preset packs for Absynth or Massive at a reduced price of $59 USD / 49 EUR / £39 GBP.
Visit Camel Audio for more information.