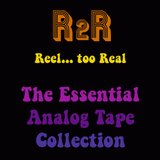 CD Sound Master has announced the release of R2R- The Essential Analog Tape Collection, a program library for Acustica Audio's Nebula.
R2R contains a virtual living museum of reel to reel analog tape recorders ranging from early tube designs to popular consumer favorites, to some of the finest machines ever made!
R2R- The Essential Analog Tape Collection features
170 analog tape programs for Nebula.
Recreated tape machines: Struder A800 MKIII, Otari MTR-10, Struder Revox B77 Pro, Wollensak 1515, Lafayette Radio RK-142, Sony TC-640, Akai 4000DS MKII, TEAC W-6004 Dual Cassette.
Tapes used: Ampex/Quantegy Grand Master 456, Ampex 499, ATR, Scotch 206, Scotch 290, Scotch 111, Sony PR-150, Maxell UD-3590, Maxell UD-XL-3590B, Maxell XLII.
Various tape speed settings for specific models recorded.
R2R is available for purchase for $99 USD. R2R-FREE includes 4 free programs for Nebula, and is available as a free download so Nebula users can demo R2R.
More information: CD Sound Master