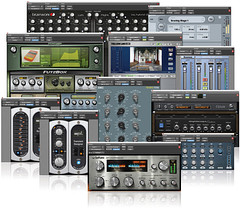 Digidesign has announced MassivePack 8, a limited time bundle offer for Pro Tools|HD plug-ins.
Get the sounds you're after and save thousands of dollars on a valuable collection of some of the most loved and most used professional plug-ins for mixing and sound processing.

Designed exclusively for Pro Tools|HD®, the new MassivePack™ 8 features a revered set of plug-ins used by leading studios and pros to create mixes for albums, TV, and film. The bundle includes 11 of the top Pro Tools® Development Partners™ plug-ins, plus your choice of 12 more from Digidesign®, at extraordinary savings of up to $11,105 off retail (when purchased separately).

Need more processing power? MassivePack Pro™ 8 provides even greater value, offering a performance-boosting PCIe HD Accel card (worth $4,995 just on its own!) and the same set of MassivePack 8 plug-ins at savings of up to $13,900 off retail (when purchased separately).
MassivePack 8 and MassivePack Pro 8 are available for a limited time through Pro Tools|HD dealers worldwide for $1,295 and $3,495, respectively.
More information: Digidesign