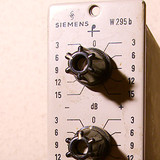 CD Sound Master has announced the release of the Siemens W295B, a collection of programs for Nebula 3 Commercial.
"Siemens W295B EQ For Nebula" consists of 20 programs, all sampled at 96kHz and tested to retain accuracy at 44.1kHz and 48kHz sample rates with the latest version of Nebula3 Pro. There are multiple programs for each band, combined high/low shelf, and fully interpolated frequency and gain, along with a complete 'console' preamp collection at no extra charge!

The Siemens W295B is a vintage, early 1970's, West German, discrete solid state 3-band eq with beautiful sounding transformer inputs and outputs and the very special Sitral transistor. The unit used for this release is all original in excellent working condition.

The W295B has a High Shelf eq, and Low Shelf eq, both with +/-15dB in 3dB increments. It also has a Middle Range bell eq with fixed frequencies of 700Hz, 1kHz, 1.5kHz, 2.3kHz, 3.5kHz, and 5.6kHz with +/- 8dB in 2dB increments.
Siemens W295B EQ For Nebula is available to purchase for $49 USD. A free, fully functional, reduced feature demo is available to download here.
More information: CD Sound Master