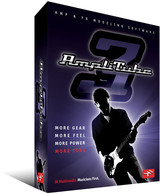 IK Multimedia has released version 3.0.1 of Amplitube, a guitar and bass tone gear-modeling software for Windows and Mac.
If your recording or playing "rig" is lacking in that rich, lush expressive analog warmth, then you need to check it out. With over 160 precisely modeled pieces of vintage and modern gear available in one package, AmpliTube 3 is the ultimate tone gear collection for the player/producer/engineer suffering from tone angst.
Changes in Amplitube v3.0.1
Parameter values are now shown when clicking on a control knob.
Parameter values can now be entered by clicking in the VALUE field.
Parameter control via Mouse Wheel has been improved.
Fixed a crash that could occur in Sonar when setting BPM Sync ON on certain modules.
Fixed Step-based effects: trigger mode (free/strike) was not preserved when dragging the FX to another slot.
Fixed Step-based effects: note division was not preserved when dragging the FX to another slot.
Various models have been fixed to properly operate at 96 kHz sample rate (Combo 150MB, Jazz Amp120, British OR, British Lead S100, American Vintage D, Wah46, Tuner).
Improved 6L6D and 6L6T Power Amp models.
EQ and Power Amps models now behave correctly when MATCH switches are OFF.
American Clean MKIII and American Lead MKIII models have been improved.
Various fixes related to BPM Sync and Song Position information from the Host.
Added an alert message to inform when the Host is not sending BPM Sync and Song Position information.
Fixed possible clicking noises happening on the Audio Units version at the beginning of audio regions.
Tuner MUTE button now behaves correctly and only works when Tuner is ON.
Fixed a problem that could cause alteration on module Panning when the plug-in GUI was closed.
Preset Browser now correctly works on Mac OS X 10.4 versions.
Added "Neck + Bridge" Pickups Position in the Preset Browser.
Improved speed of Preset Browser Refresh.
Cabinet Global bypass is now stored to the Host session data.
Tempo Source is now stored to the Host session data.
Improved TAP tempo detection.
Fixed a problem that was sometimes preventing a correct Panning of the rack modules on Rig Chains #2 and #6.
Fixed various issues on MIDI Control assignment, both automatic (Learn) and manual.
(Standalone) Input Gain slider position is now stored to the AmpliTube 3 Project File.
(Standalone) Metronome sounds are now OK on PPC Macs.
(Standalone) Track levels now correctly defaults to 0.0dB.
(Standalone) Improve robustness of Audio hardware selection / drivers compatibility.
Amplitube 3 is available to purchase for PC and Mac for $349.99 USD / 269.99 EUR.
More information: IK Multimedia