Cherry Audio has announced the release of version 2.0 of its Voltage Modular, bringing innovative new features, workflow improvements, and new sonic possibilities to the realm of software modular synthesis.
Voltage Modular 2.0 blows away all patching limitations, and introduces groundbreaking new ways to build complex patches with fewer cables.

Unlimited cables per jack allows for endless modulation possibilities. The new Busses feature offers an ingenious new way to build complex patches and eliminate messy cables. Variations takes modular synthesis in unprecedented new directions, with unlimited variations available per patch. Play variations individually, or use triggers or CV to move through variations in endless ways.

The IO Panel now includes an integrated Recording section, generating pristine 32-bit floating point audio files, sourced from the IO Panel main left and right outputs. Workflow improvements are everywhere in Voltage Modular 2.0, from custom module categories and search terms to optional auto-alignment of modules in cabinets.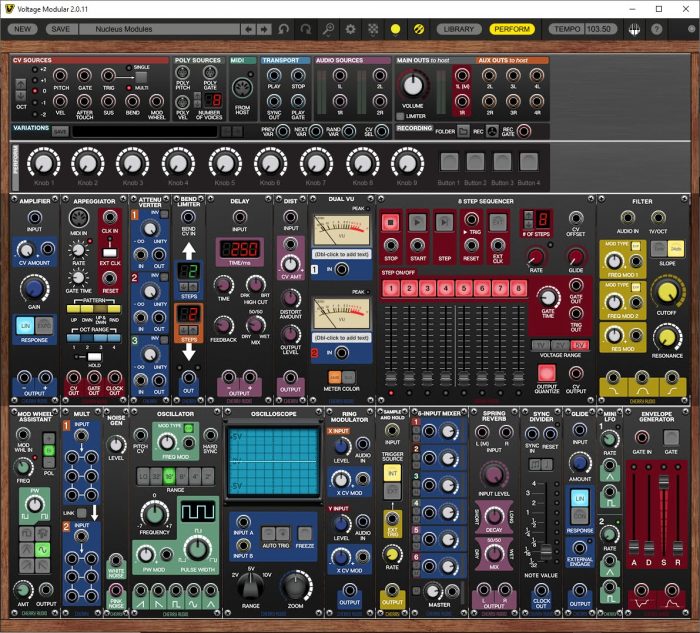 The update is completely FREE for all Voltage Modular users.
New users can purchase a license at Cherry Audio and distributor Plugin Boutique starting from $50 USD, or try the free Voltage Modular Nucleus.
Cherry Audio has also announced new and updated module bundles:
MS Vintage Bundle has been expanded to include the new Poly VCO-20 Dual Oscillator and Poly VCF-20 Filter, for polyphonic playback of their gargantuan tones.
Vector Bundle includes the exciting new AirWave, Poly AirWave, AirVector, and AirStep modules.
Vintage Voice Bundle takes Voltage Modular in a thrilling new direction with SynthVoice, SynthVoice Filter, VCF-60, Chorus-60 and the DCO-60 Juno-106 emulation.
The MS Vintage Bundle is on sale for $19 USD (regular $30 USD), while the new Vector Bundle and Vintage Voice Bundle are $29 USD (regular $39 USD) through June 15th, 2020.