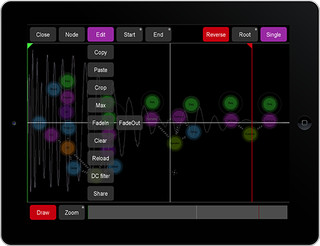 Chris Wolfe has launched version 1.5 of Jasuto, a modular synthesizer for the iDevices.
Jasuto allows you to visually construct your own synths/effects, and use them to make sequences all on your device!

With the addition of a fully-featured sampler you can now record/resample/edit, and even create entirely new samples by drawing right in the app.
Changes in Jasuto v1.5
Added Audiobus support (input, effect & output source).
Completely compatible with iOS7.
Updated UI graphics.
Universal device and Retina support.
Zillions of bugs squashed.
A shinny new manual.
Added background audio support.
Low latency audio (256 samples).
Sample sharing through SoundCloud.
Dropbox syncing of samples/scenes.
New ADSR2, AP, Brick, EXP, Mix, Power, ZeroX, Tanh, Gain Node Modules.
In-App purchases

High Fidelity (Hi-Fi) Audio.
New Nodes: Chorus Module, Detuned Module, Dirty Module, Morph Module, Space Module.
Jasuto is available to purchase for $4.99 USD.
More information: Jasuto