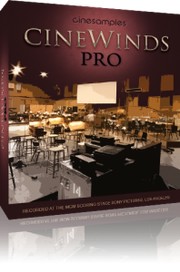 Cinesamples has announced the release of CineWinds PRO, an orchestral woodwind sample library for Kontakt.
You have asked and we have labored, and we are proud to announce the release of CineWinds PRO, the expansion of the popular CineWinds CORE orchestral woodwind library.

CineWinds PRO expands the orchestral woodwind section with additions of Alto Flute, Bass Flute, English Horn, Eb Clarinet, Bass Clarinet, and Contrabassoon — and we also added a wide array of ethnic and period wind instruments, such as the Penny Whistle and Ulleann Pipes, performed by maestro William Lyons, who performed on the same instruments he used in many films, including Peter Jackson's The Hobbit. CineWinds PRO was recorded at the SONY Scoring Stage and mixed by master engineer Dennis Sands.
The CineWinds PRO Expansion is now available to purchase for $399 USD. A bundle of CineWinds CORE and PRO is $649 USD. Libraries require full version of Kontakt 4.2.4.
More information: Cinesamples / CineWinds