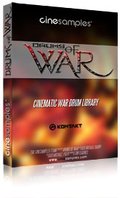 CineSamples has released Drums of War, a brand new sample library featuring a variety of large, cinematic drums.
Drums of War captures the magnitude and essence of a forgotten battle fought in a forgotten place. The trepidation that proceeds battle can be found in the depth of "Hell's Deep." " Sub Boomz" echo the warmth of a call that inspired the timid long ago. "Ancient Torture Drum" brings to mind long-extinct trees and the skins of beasts that haven't been seen on the earth in millennia. "War Ensemble" is reminiscent of grand, prehistoric armies that stormed across a rugged landscape, terrorizing all in their wake. "Titan Ensemble" can help to evoke the courage of battle-weary soldiers or the fear of the death knell's call.
Drums of War features
Pristine 24/96k Recordings at the legendary Manhattan Center Studios.
Unprocessed natural cinematic sonic quality.
100% Natural Reverberation.
Live Ensemble Playing**.
Extensive 5 Dynamic Layer Patches each using Level based Round Robin programming.
Truly Random Round Robin Scripting*.
Quick EQ GUI using pre-selected frequencies for quick and accurate equalization*.
Alternate Takes Included (Up to RR X13).
Drums of War for Kontakt 2/EXS24 is available in a 2GB 24bit/96k version for $129 USD, and a 1GB 24bit/48k version for $99 USD.
Visit CineSamples for more information and audio demos.
* Kontakt Only / **Excluding "War Ensemble"