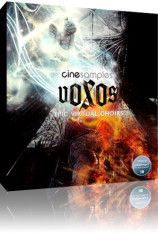 Cinesamples has announced Voxos, a virtual instrument containing a full epic choir, boys choir, soloists and individual choir legato sections.
Powered by the industry-leading Kontakt Player engine, VOXOS contains world-renowned choirs and soloists with experience in recording for countless Hollywood films, trailers, video games and the concert stage.

Recorded at the beautiful Bastyr Chapel, with its gorgeous acoustics, the choirs were captured with multiple microphone positions in 24bit/48k 5.1 surround. The result is a pristine tone that sounds great right out of the box. VOXOS contains over 35,000 samples, at an uncompressed size of 35GB.
Voxos features
Phrase Builder, a powerful way of adding word syllables into a choir performance.

30 Syllable Matrix Editor.
Intuitive, performance-oriented scripting.
Staccatos, Sustains, all MOD XFADE.
Dynamic morphing between dynamics.
4 Mic positions + Full Mix.
Section contains over 16,000 samples.

Legato Sections, contains true legato performances of Sopranos, Altos, Tenors, Basses, Boys Choir, Solo Boy, Solo Soprano and Solo Alto.

Real transition samples for all intervals.
Each contain 2 vowels at 2 dynamics each.
4 Mic positions + Full Mix.
Section alone contains 17,000 samples.

Choir Effects, over 500+ Choir Effects suitable for film, tv and game music.

Includes Trailer Risers, Shouts, Whispers, Grunts, Screams, Tonal Diatonic Clusters, Atonal Clusters, 1950′s Sandman Choir (bum bum).
Contains over 1,700 samples.
4 Mic positions + Full Mix.
Voxos powered by Kontakt Player 4 is available to pre-order for $799 USD until September 30, 2010 (35% off $1099 MSRP, $999 MAP).
More information: Cinesamples / Voxos