Plugin Boutique has launched SoundSpot Complete VIII, a bundle which includes all 8 of SoundSpot's plugins.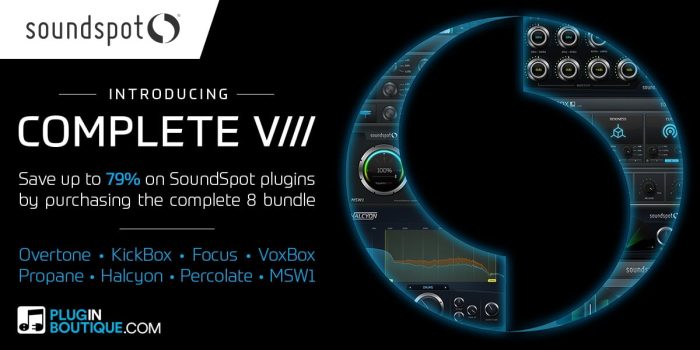 Since launching our first product back in 2016, SoundSpot plugins have gone from strength to strength, and have become go to tools in some of the world's most prolific producers arsenals, giving them quick, powerful and lightweight solutions that enable them to sculpt their sounds to create sonic bliss.

After many months and near constant emails from our loyal and wonderful customers asking if we are planning to release a bundle, we're excited to announce the release of Complete VIII which contains all 8 of our plugins for more than 50% off and crossgrade options are also available.

Should you need mastering tools, we've got it covered with the analogue modelled Overtone character equaliser, and the completely unique psychoacoustic Focus mix correction & clarity plugin. Perhaps you need Saturation? The Halcyon will give you the power to get super creative and make your mixes pop. Or maybe you're craving the huge solid kick drums found in many of dance musics most popular tracks, look no further, the best selling KickBox plugin will hone your kick drums to achieve more punch than a freight train full of boxing gloves!

Whatever your production needs may be, the Complete VIII bundle has got you covered! So take the step towards better sounding mixes without killing your CPU today.
The Complete VIII bundle is available for purchase from Plugin Boutique for £241 GBP. Owners of 1 or multiple SoundSpot plugins can crossgrade at up to 79% off.
More information: SoundSpot / SoundSpot Complete VIII