Dark Side of the Tune has announced the release of Drum Abrasion, Bent-O-Box and Lost Percussion, three sample libraries for the MPC.
Each complete Dark Side of the Tune kit fills all of the pads on the MPC, offering a simplified and straightforward program with no parameter settings, Q links or pre-arrangement, allowing users to create their own custom kits.

Producers who don't own an MPC can also build custom drum kits in their favorite sampler, using the WAV files.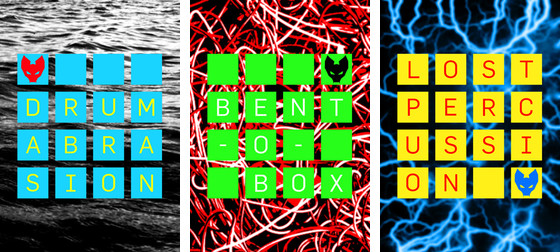 Dark Side of the Tune MPC kits
Drum Abrasion offers acoustic drums and various found instruments roughly treated with warm tube saturation, tube mic's and compression, creating a bigger and beefier organic palette.
Bent-O-Box contains sounds from circuit bent toys run through analog distortion and modulation. Unearthly guttural noises and screeching digital mayhem meet MPC efficiency.
Lost Percussion offers new and vintage analog synthesized drums using circuit bending techniques and analog processing to give them a modern edge. All TR sounds (808, 909) are purposely avoided.
Dark Side of the Tune MPC kits come in 500 format (48 samples) for $7.99 USD or 1000/2500/5000 format (64 samples) for $8.99 USD and are available in download only.
More information: Dark Side of the Tune