Krotos has updated its Dehumaniser II creature sound design software, adding new features to improve functionality and allow you to greater flexibility in your sound design.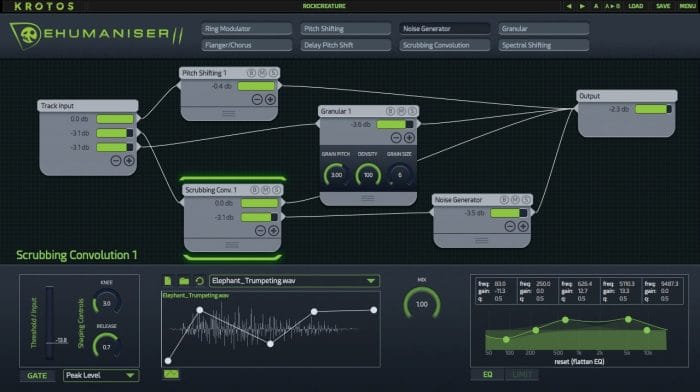 Now, the software which helped bring the characters in Disney's The Jungle Book and James Wan's The Conjuring 2 to life is waiting for you!

First and foremost, a new Sampler Trigger module has been added,which includes threshold-based triggering, built-in convolution, and forward/reverse playback. This is ideal for sound designers looking to test, preview and process specific audio samples before merging them back into their larger project. Through the reverse playback functionality, a whole new world of design and audio is open to users, instantly doubling any existing sound library. Combined with Sampler Trigger's vari-speed playback and automation, a whole new range of sounds can be achieved using Dehumaniser II.

Additionally, numerous UI changes have been made to help streamline your workflow and improve the look and functionality of Dehumaniser work space. And to boost your creativity, we've added 12 new presets, including Tiger Beast, Glitchy Metal Robot, and our favourite – Crazy Otters.

Finally, we're happy to announce the inclusion of the Magpie Samples Collection to the sample library. Recorded in New South Wales, Australia, by sound recordist Kevin Hay (@mrhay), these are 25 recordings of various Magpie calls recorded with fantastic clarity and quality, at 48000khz, 24-bit. They make a great new addition to our library, and we've already produced a host of incredible sounds based on these recordings. Check out our new 'Mr Magpie' and 'Mrs Magpie' presets, included in this update for inspiration!
Changes in Dehumaniser II
Sampler Trigger Module.
Tags on top of UI (indicate how many nodes of this type are available).
Improved latency compensation for all modules.
Improved handling of artefacts when pitch shifting downwards using Delay Pitch Shifting module.
Bottom panel now switches to mixer view when switching presets.
Additional smoothing on delay pitch shifting delay time.
Preset Manage Window now displays contents of folders when selected.
Mute, Bypass and Solo selections no longer disappear when you close UI.
Allow control of EQ graph from the float readout with the mouse..
Fix for load file button in Scrubbing Convolution on Windows.
New Magpie Samples Collection added to sample library.
12 new presets (Convolved Otter Dialogue, Fleshy Lips, Glitchy Metal Robot, Crazy Otters, Creepy Beast, Giant Underwater Beast, Leopard Growl, Mr Magpie, Mrs Magpie, Threatening Tigers, Tiger Beast, Tiger Monster).
Dehumaniser II for Windows and Mac (VST/AU/AAX) is available for purchase for £449 GBP.
More information: Krotos