Denise has launched an update to its adaptive noise generation plugin.
Noize 2 brings user requested features such as new noise types and loading and editing of user noise profiles.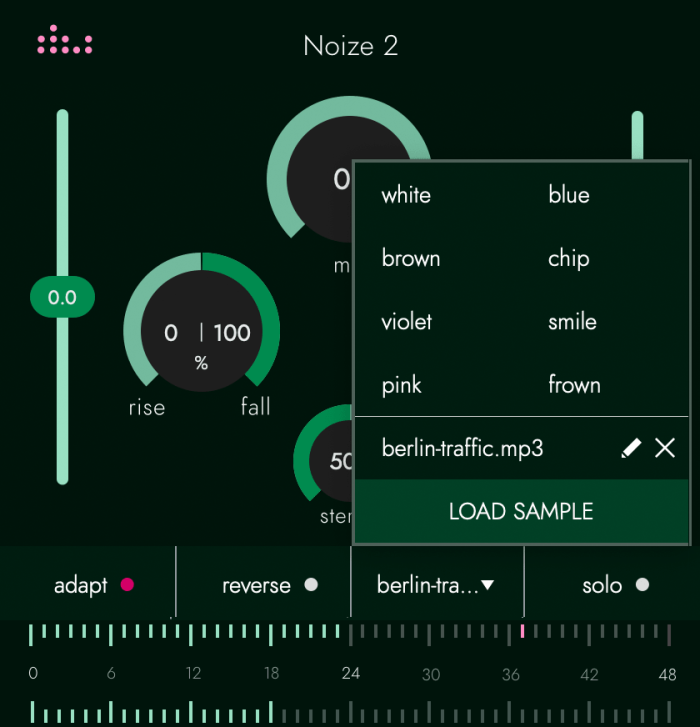 Producer​ ​Jamie Boyle from Sweden won Denise's 2018 plugin contest. Based on his idea, Denise created an adaptive noise generation plugin that takes noise generation to the next level.
Noise is a secret weapon used by many professional producers to enhance and flavor their tracks: for example by making digital samples and synths sound more natural, adding grit and power to bass-synths, leads and paths, and adding character and sustain to drums and beats. It turned out a huge success and almost a year later, after gaining lots of feedback, Denise now introduces the Noize 2.0.
"I must say I've been extremely impressed with the design and versatility of every plugin by Denise, and the Noize 2 has simply blown me away. The sample loader really gave me the option to create my own textures and distortion." – Sh?m (London – DJ/Producer)
The Noize 2.0 introduces three new noise types and the option to load and edit your own noise profiles – features that have often been requested by the community.
When Denise actually tested the plugin, it turned out even more creative and versatile than they could anticipate. For example, they found out using a reversed vocal sample on drums and rhythmical synths has a surprisingly great effect.
Noize 2 features
A switch to generate noise that adapts to the volume of your track, in real time.
Load and edit your own noise samples.
Choose between 8 types of noise and apply additional filtering.
Mute the original audio to isolate the noise signal and apply additional effects.
Optimize the behaviour of the noise by tweaking the rise and fall time.
Additional plugins that compliment the Noize: Bite and Space Invader.
Low CPU usage.
Denise wanted to include a great deal of good samples to start noising with.
That's why they went out in the field with the goal to showcase the sounds of Berlin: Going with the flow, they came across both typical and unexpected sounds, such as East Berlin traffic lights or footsteps in a church.
Noize 2.0 is available in VST/VST3, AU and AAX plugin formats from Denise and distributor Plugin Boutique. The Berlin Sample Pack is offered on the Denise website for 8.99 EUR.
Users of the original Noize and Noize Retro can upgrade at a discount. Note the Plugin Boutique users can get Noize Retro for free with any purchase through March.