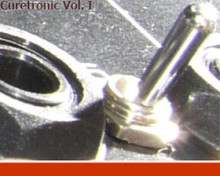 Detunized has released Curetronic Vol.1, a new sound pack for Ableton Live featuring loops created with a modular synthesizer.
CURETRONIC™ – a classical sound synthesis system, full sized and modular. Created by developer Matthias Schmidt, two cabinets fully loaded with modules delivered 285 tempo-synced loops directly pulled out of the wall. No compression, no filtering, no FX – just as is.
DTS013 – Curetronic Vol.1 features
Format: Ableton Live Pack.
Clips: 285.
No. of Samples: 285, (24 Bit, 44,1 kHz).
Disk space needed: approx. 300 MB.
Installation instruction included.
Curetronic Vol.1 is available to puchase, priced at 4.98 EUR for Detunized subscribers, or 6.78 EUR as an instant download. New subscriptions currently include the latest 3 releases (offer valid until April 10, 2010).
More information: Detunized