Plugin Boutique has launched a Black Friday sale on Devious Machines, offering up to 50% off on its Duck and Pitch Monster plugins.
On sale for £10 GBP, Duck offers drawable sidechain-style pumping with two-band control.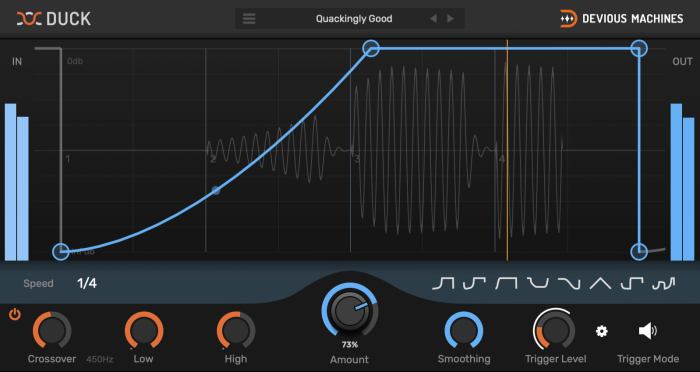 Duck makes it easy to design a custom volume shape that repeats at a speed and depth of your choice, or use one of 58 presets to find new and inspiring effects.

As well as sidechain compression Duck is capable of trance-gating, tremolo and any other volume effect you can think of. For more control, enable split band mode and adjust the separate low and high frequency controls. And Duck can be triggered with audio from a sidechain input or by MIDI notes, making it easier than ever for hip-hop and bass music producers.
Pitch Monster is a 6-octave, 64-voice granular pitch shifter with three algorithms, plus MIDI control and chord modes.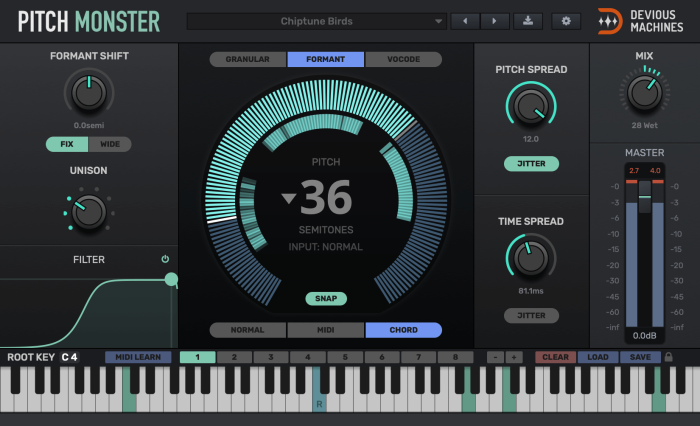 Underneath Pitch Monster's streamlined exterior lurks an absolute beast, capable of 64 voices of sound-warping insanity. Transform a solo vocal into a beautiful choir or robotic melody; turn a mono synth into an orchestra, or your own familiar speaking voice into the rumbling vibrations of Thor, God of Thunder.

With its granular, formant and robo-tastic vocoder engines, Pitch Monster goes far beyond ordinary pitch shifting. Realtime MIDI control, low latency and 8-voice polyphony mean that it can be played like an instrument. Pitch and time spread and randomisation functions turn ordinary sounds into the fantastical, whilst extreme formant shifting can not only alter the gender of a voice, but mutate it into an entirely different species!
Pitch Monster is just £55 GBP until December 9th, 2019.
You can also still save 40% on the Texture powerful sound layering effect for adding noise, interest, or completely transforming your sounds. The offer expires December 15th.
More information: Devious Machines