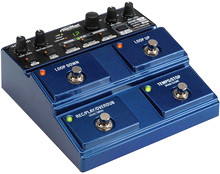 DigiTech has introduced the JamMan Solo and JamMan Stereo, two new looper/phrase sampler pedals.
The JamMan Stereo features true stereo loops as well as reverse playback, making it perfect for playing backing tracks, while the JamMan Solo is designed for the guitarist or bassist looking for a full-featured looper in a compact form.

Both also feature the ability to store 35 minutes of CD-quality loops in 99 loops internally as well as having a SD memory card expansion slot, giving the artist the ability to store up to 16 hours of material in the JamMan Stereo and 48 hours of material in the JamMan Solo in an additional 99 slots.

The JamMan Solo and JamMan Stereo feature USB connectivity and will sync to DigiTech's free JamManager™ software that organizes and saves your JamMan loops to a PC or Mac. The software also provides the user with the capability to create JamLists and have them available for use anytime.
More information: DigiTech