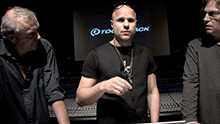 Toontrack Music has announced the official Superior Drummer 2.0 tutorial.
The tutorial, presented by Mattias Eklund Toontrack Music Head of sound design and founding partner together with Pat Thrall, Neil Dorfsman and drummer NIR Z, the team behind the recordings for Superior Drummer® 2.0, features a thorough walkthrough of all aspects of working with Superior Drummer® 2.0 to gain professional results.

As an added bonus Neil Dorfsman also goes through Toontrack drum replacement app Drumtracker® explaining its feature set.
Superior Drummer 2.0 tutorial
Getting started — Setting up Superior Drummer in your DAW.
Sound good quick — Walking you through how to get a great drum sound from Superior Drummer in a matter of seconds!
Construction Window — Explaining the different functions from Left to Right inside the Construction view of Superior Drummer.
Mixer — Demonstrating the Mixer of Superior Drummer and its functionality.
Multichannel to host — How to setup Superior Drummer as a Multiple Output plugin.
Combined Presets — What Combined Presets are and various ways of implementing them from within Superior Drummer.
Bounce / Render to audio — There are many options when looking to export your drums from Superior Drummer. The guys guide you through the process.
Drumtracker / S 2.0 Tutorial — Drummer Nir Z jams and the team uses Drumtracker to render his live audio recording to MIDI as well as showcasing the possibilities when using the retrieved MIDI in Superior Drummer.
Interview with the N.Y. Recording Team — An interview with the team behind the N.Y. recordings for Superior Drummer. With Pat Thrall, Neil Dorfsman, Nir Z & Mattias Eklund.
The tutorial is available on-line at the Toontrack website.
More information: Toontrack Music