Antelope Audio has announced that its Discrete 4 console-grade discrete microphone preamp interface is now available.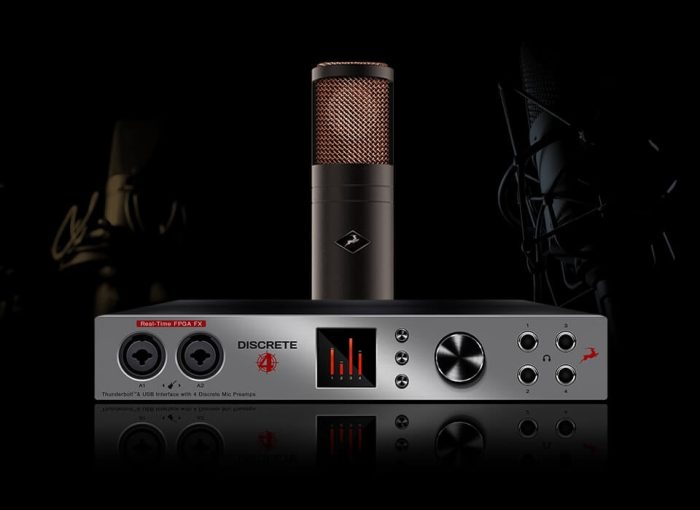 Discrete 4 comes with 4 console grade 6-transistor discrete preamps, 121 db dynamic range conversion and rock solid clocking. Discrete 4 features the Antelope Audio premier real-time FPGA FX modeling iconic gear from BAE, Lang, Gyraf Audio and FET.
DISCRETE 4 was developed after Antelope Audio undertook extensive research into illustrious microphone preamp circuitry, applying its famed FPGA (Field Programmable Gate Array) engine effectively to transform its already big-budget-sounding Accusonic preamps into several classic models.

Moreover, this takes place in real-time with an authentic response that truly sets it apart. Although DISCRETE 4 was designed to work with any microphone, it really shines when working with Antelope Audio's new EDGE and VERGE modelling microphones that were recently announced alongside its bigger brother, the DISCRETE 8 Thunderbolt™ & USB Interface with 8 Discrete Mic Preamps — hardly surprising since those modelling microphones were designed to exclusively match the discrete preamp architecture of the audio interfaces in question.
Discrete 4 features
4 discrete mic preamps – Console-grade Class A mic pres with discrete transistor design and precise digital gain controls.
Mic preamp modeling – Turn the Discrete 4 mic pres into a large selection of classic units in real-time.
Real-time FPGA FX – AFX including BAE, Grove Hill, Gyraf Audio and Lang classics for use in the Easy Panel or in any DAW.
Rock-solid clocking – Fourth Generation 64-bit Acoustically Focused Clocking (AFC) technology.
EXPERT MONITORING – Create multiple mixes with FPGA FX included and send them to Headphone or Monitor outs.
Remote control – Access all Discrete 4 features via its intuitive Easy Panel or download the free iOS and Android mobile apps.
The Discrete 4 interface is accepting preorders on various bundles, starting at 899 EUR.
More information: Antelope Audio / Discrete 4