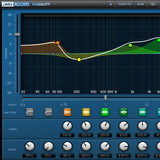 DMG Audio has released version 1.08 of EQuality, an equalizer effect plug-in for Windows and Mac.
From the bottom up, EQuality sounds as good as an EQ can sound. By that, I mean the prototypes are as close to the consistent analogue shapes as can be achieved digitally, without spending extra CPU. When you want to spend extra CPU to close the deal, you can do that too, but so far not many people have reported finding occasions where the difference is perceptible. There's a technology behind that that I'm reluctant to describe in too much detail, nor to wrap up in marketing-speak.

From the top-down, EQuality is designed to allow you to make it work the way you want it to. At every stage, we've sought out any idiosyncrasies in the design, and replaced them with solutions that make sense, and with options to allow you to have things the way you need them.

In the middle, there's functionality and flexibility. A lot of it.
Changes in EQuality v1.08
Fix latency compensation for RTAS.
Fix bug with textbox entry on Mac.
Optimised VU redraw.
Fix reporting of latency in VST3 version.
Optimisations for Graph redraw.
Massive speed increase for UI redraw on Windows.
Analyser is no longer pink.
Enhanced CPU efficiency for redraw for AU version.
Solo by Select preference (new default).
Use "Factory Bank" if no Default Bank found (no overwriting of your defaults).
Improve ultra-low frequency performance.
Analyser Tilt and Smooth preferences.
Avoid glitches when switching between Stereo < -> M/S/L/R modes with Linphase.
Compensate for mouse position, so touching bands doesn't nudge frequency.
"Show me the EXACT Q value" preference.
48db/oct filters.
Tidyup preferences.
Fix bug whereby "hide mouse" preference could become permanent.
Fix two crash bugs.
Prevent pop on start with Phase modes.
VST2: Avoid reporting latency IN the audio thread (avoids weird delays in Cubase).
VST2: Keep UI in synch with preset selected from host.
Make FLAT smarter.
Make entered text undoable.
Preference for Red or Blue analyser colour.
Added "press shift to lock graph to adjust only gain, not frequency".
Fine-drag with knobs/textboxes with right mousebutton.
Improved "pointer hide" mode.
VST3: Don't map all channels incorrectly.
VST3: Don't crash when inserted on a mono channel.
Fix Stereo and Double Precision processing for VST3.
Fix metering bug.
Reinstate +/-6dB zoomed range, add +/-3dB range.
Stop the registration info from rotating.
Add Shift+Ctrl (Shift+Apple) click to invert a band's gain.
EQuality is available to purchase as an effect plug-in for PC and Mac (VST/AU, RTAS coming) for the introductory price of 74.99 GBP until 2 May, 2010 (regular price £100 GBP).