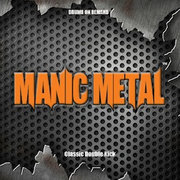 Drums On Demand has released Manic Metal – Classic Double Kick, a collection of nearly 900 metal drum loops in 12 intense Song Sets.
If you play metal or hard rock then you've got to have this collection of metal and hard rock drum grooves including plenty of hyper double kick patterns.

Each Song Set® starts with 4-6 different core loops (grooves or riffs) which are then rounded out with matching fill, alternate, crash and other loops — nearly 70 loops per Song Set®. YouTube Tour of Manic Metal.
DOD Volume 17 features
BPMs ranging from 110-247.
Mostly straight time with a few odd time 6/8 and 9/8 riffs.
An additional 200+ multi-velocity single hit drum samples (snares, kick, toms, cymbals, etc.).
27 Loop Layers for creating your own grooves and breakdown sections.
24-BIT Acid WAVs, 16-BiT Acid WAVs, Apple Loops (REX will be available in mid-March.
Optional $49.95 upgrade to raw 24-Bit WAV Multitrack edition.
High-end 44.1K mix.
Royalty-free.
Patented organization.
For disc orders, 24-Bit WAVs, Apple Loops and Multitrack discs are DVD data discs. 16-Bit WAV disc is a data CD.
Manic Metal – Classic Double Kick is available to purchase $44.95 USD.
More information: Drums On Demand / Manic Metal – Classic Double Kick