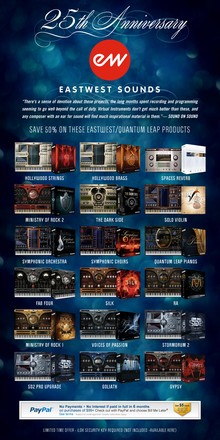 EastWest has announced that is has launched a new, redesigned website and a new logo in celebration of its 25th anniversary.
EASTWEST is the brainchild of producer Doug Rogers, who has won many awards, including "Recording Engineer of the Year". He founded EASTWEST in 1988, and since then, the company has received more than 60 international industry awards.

EASTWEST is pulling out all of the stops to celebrate the company's 25th Anniversary in 2013. Only a handful of music software companies can claim a quarter-century of longevity and success, and EASTWEST has been an industry leader and innovator from the beginning.

Rogers has signed several industry heavyweights to develop a, no expense spared, "Masters Series" of Virtual Instruments. Producers in this high-profile group are MARK "SPIKE" STENT (Lady Gaga, Coldplay, Madonna, Muse, etc.); JOE CHICCARELLI (Raconteurs, Killers, White Stripes, etc.); STEVEN WILSON (lead guitarist and singer of the progressive rock band Porcupine Tree); drummers MATT CHAMBERLAIN (Pearl Jam, Bruce Springsteen, Peter Gabriel, etc.); and STEVE SIDELNYK (Madonna, Seal, Massive Attack). Nick Phoenix has produced Stormdrum 3 (SD3) with Grateful Dead percussionist MICKEY HART, and Solo Cello with TINA GUO, to be released later this year.

"I am honored to work with such an amazing and talented group of people," said Rogers. "Mark 'Spike' Stent, a British producer/engineer brings his experience of working with international superstars such as Lady Gaga, Coldplay, Madonna, U2, Beyoncé, Muse, Björk, Depeche Mode, Green Day, and many more, to the table. Accordingly, our new "Masters Series" of Virtual Instruments will reflect that kind of quality."

Another milestone is the completion of the multiple Award-Winning Hollywood Orchestral Virtual Instruments series with Hollywood Orchestral Percussion, planned for late 2013, again engineered by ACADEMY AWARD, C.A.S. (Cinema Audio Society), BAFTA, and EMMY award-winning sound engineer SHAWN MURPHY, who has recorded and mixed the scores for more than 300 feature films including Indiana Jones and the Kingdom of the Crystal Skull, Star Wars: Episode II and III, Star Wars: A Musical Journey, Jurassic Park, Jurassic Park The Lost World, and many more.
EastWest is offering a 50% discount on selected EastWest & Quantum Leap products.
More information: SoundsOnline