Gospel Musicians has announced the release of Neo-Soul Keys for iPad, a virtual electric piano app.
Neo-Soul Keys for iPad is specifically designed for professional gigging or live studio work. Gospel Musician's goal was to build a professional app that could compete with any hardware synth and/or desktop audio electric piano solution.

Gospel Musicians is one of the first app developers to feature flash memory streaming using Apple CAF lossless format. Gospel Musicians worked directly with Apple's engineers to refine this new custom feature in the iOS, which allows for larger samples to be streamed via the on-board flash memory.

Not having to rely solely on a limited amount system RAM resources allows for a more rich and expressive sample playback experience, which almost equals the experience of their desktop predecessor versions. In fact, all but the extended effects are featured in the iPad version. All mechanical effects, Spring Reverb, Chorus, and Vibrato are present.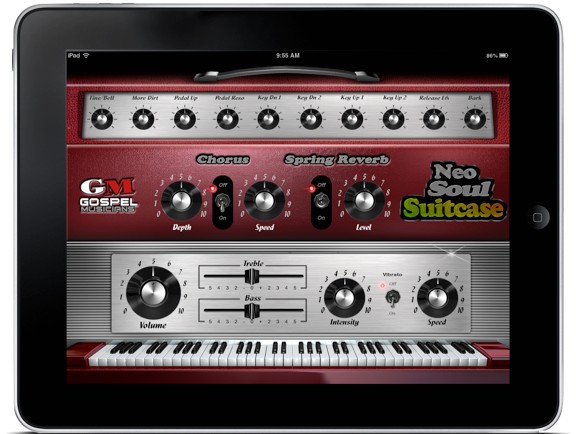 Neo-Soul Keys for iPad features
1.25GB of Sample Memory (328.4MB Lossless Compression).
Up to 8-Velocity layers for sustain samples.
Dedicated Tine.
Realistic EP release that decays with time.
Dedicated Key-up and Key-down mechanical effects.
Pedal Up and Pedal Resonance noises react with sustain pedal messages.
Able to play app in the background.
MIDI Learn.
Dedicated panic.
Wi-Fi MIDI capable.
Ability to save and load presets.
Treble and Bass Boost.
Full Retina display.
Works with iPad 2 and higher.
Polyphony dependent upon processor, i.e. an iPad 4 can yield better polyphony than an iPad 2.
The app runs on a limited time basis, yet fully functional, free of cost. Each electric piano is available as an in-app purchase for the introductory price of $9.99 USD.
Visit Neo-Soul Keys for iPad for more information.