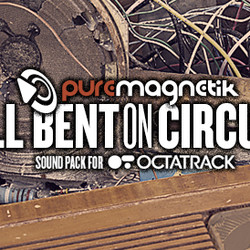 Elektron has introduced Hell Bent on Circuits, a new Sound Pack by Puremagnetik for the Octotrack performance sampler.
Frankensteined gear alert! The Puremagnetik team has ripped up dozens of electronic instruments and totally rearranged their innards. If you ever wanted to know how demon possessed gear might sound, this is the Sound pack for you. Included is also a thorough collection of digital speech synthesis samples.

The sound pack is specifically made for the Octatrack. Included is an Octatrack set featuring 1 project, 16 patterns and 4 parts. Also included are 16 scenes per part, providing a great starting point for experimenting with the demo patterns.
The Sound Pack costs 30 EUR.
More information: Elektron / Hell Bent on Circuits