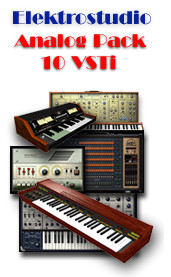 Elektrostudio has released Analog Pack, a collection of 10 freeware VST instruments for Windows PC.
The Analog Pack Eight includes emulations of 8 classic synthesizers, a drum machine and a rhythm box.
Analog Pack features
There's not much (or any really) information on the Elektrostudio website, so please leave a comment if you know more about these. The developer wrote something in this forum post, perhaps someone can translate it?
The download is an executable which includes the .dll plug-ins and standalone versions. If you rather just download the .dll's you can get them here (RapidShare) and here (FileFactory) (20/05: links removed).
Visit Elektrostudio for a link to download the original Analog Pack.