Emvoice has announced the release of Emvoice One, a plugin that aims to offer the world's most realistic vocal synthesizer.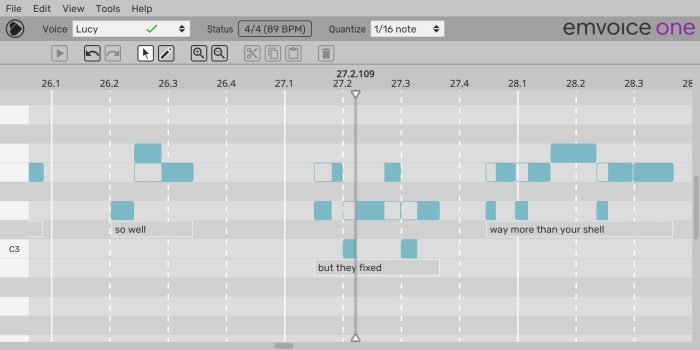 Usually, vocal synths require complex modelling and synthesis techniques. The results can be impressive, but this technology has not yet reached a high level of realism, and has been stagnating for some time.

Emvoice takes a different approach. We've broken sung vocals down to the granular level, recording the elements that make up individual phonemes at multiple pitches. Thousands of samples are reconstructed by a sophisticated cloud-based engine that returns the complete vocal to your system over the internet, at lightning-fast speed. What you're hearing when you listen to Emvoice One isn't artificial – it's a real singer's voice, recombined to interpret your own words.

Thanks to Emvoice's three layers of operation – the plugin, the engine and the dictionary – it's simple to program notes and type words. Want to go deeper? You can tweak pronunciations and add your own to the user dictionary, program complex and nuanced vibrato, and enter individual English-language phonemes to create your own words or sounds.
Emvoice One features
Deeply Sampled Human Vocal Performances – no synthesis or physical modelling.
DAW-style piano roll note editor – just type words for instant sung vocals.
Cloud-based engine recombines thousands of samples as you work.
Lucy's vocal range is two and a half octaves (E2 – A4).
Program realistic glissando and vibrato patterns.
Breath sounds are generated to work realistically around programmed notes.
Choose from pronunciation options or create your own words from phonemes.
Export/Import entire project files of lyrics and notes.
Runs as a VST/AU plugin directly in your DAW (AAX version coming soon).
The Emvoice One plugin is available as a free download, with access to a limited range of notes until a full voice is purchased. The first voice, Lucy, is now available for purchase for $199 USD plus VAT.
More information: Emvoice