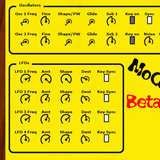 Eric Beam has released MoControl VST, a free instrument plug-in for controlling a DSI Mopho.
Like most other DSI MoPho & Prophet 08 owners I wanted VST integration to control/automate parameters. This is the much pre-mature outcome of that desire. Feel free to Beta test & make suggestions in the comment section.

Forgive the horrid graphics, I'll be giving the gui, fixes, & changes my attention during creative downtime. As always I hope other like minded musicians get some use/fun out of these efforts. (On that note, any graphic designers out there that would like to take on a project let me know.)
MoControl is available to download at no cost, donations are appreciated.
More information: Signal To Noize