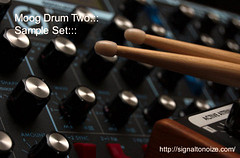 Eric Beam has released Moog Drum Two, a free drum rack for Ableton Live 8.
This is the 2nd Moog Drum Rack Sample Set for Ableton Live 8 "Moog Drum Two". (The 1st can be downloaded HERE.) You will find some nice deep tones in this set. Think 808 if it had a Minimoog filter. I've created pitch macros for each sample. Being that it is sampled @ 96k you have plenty of room to re-pitch those samples without quality loss for music production.

Captured @ 24bit/96k with Lynx converters & DBX 903 compression.

Analog Signal path = Moog Voyager-DBX 903's-Console EQ-Dominator II- Lynx.

Six velocity samples per pad.
Moog Drum Two is available for download as donationware.
Visit the Signaltonoize blog for more information and a link to download the Moog Drum Two drum rack.