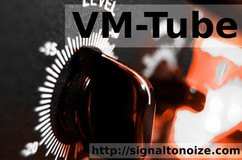 Eric Beam has released VM-Tube, a collection of programs for Acustica Audio Nebula.
A pristine tube gain stage.

Captured from a boutique VARIABLE MU mastering tube compressor known for it's smooth boost characteristic.

Eight vacuum tubes & custom transformers are behind this finished sound. Great for track, bus, & mastering duties.
VM-Tube features
3 (free), 5, & 7 kern (harmonics) Nebula Programs.
Triode tube stage with smooth frequency response.
Sampled @ 24/96 with Lynx A/D D/A.
The 5 and 7 kern VM-Tube programs are available to purchase for $20 USD. The free 3 kern version can be downloaded from the Signaltonoize website.
More information: Signal To Noize