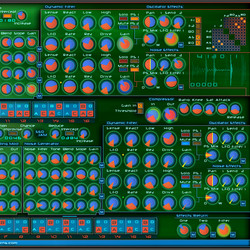 EverythingTurns has released version 2.0 of TRanz8ight4, the "Improvised Analog Percussion Sequencer" for Native Instruments Reaktor.
TRanz8igh4 has two independent 16 beat sequencers, each driving a bank of interactive multi-wave oscillators and noise generators.

Switch on the Jammer, and it will improvise and interact with the sequencer taking a basic pattern in new directions creating a more complex rhythmic variation and extending the loop cycle way beyond the original.

On the mixer side we have dynamic filters, compressor, limiter, delay, reverb and modulated effects that can sync to the Jammer.

The TR-84 has a matrix patch-bay that lets you chain effects in any order, inserting them into the mixer sends.

Put all this together and you have a "Dynamic Improvised Analog Percussive Loop Generator" (Drum Machine) that thinks it's a Didgeridoo. Plus, it has MIDI in so you can play it from your Controller or DAW.
The Reaktor ensemble costs £14 GBP. Requires Reaktor full version 5.8 or higher.
More information: EverythingTurns / TRanz8ight4