Slate Digital has announced the release of the FG-116 Blue Series FET Compressors, a perfect recreation and a custom mod of the most highly sought after Rev A Blue FET Compressor.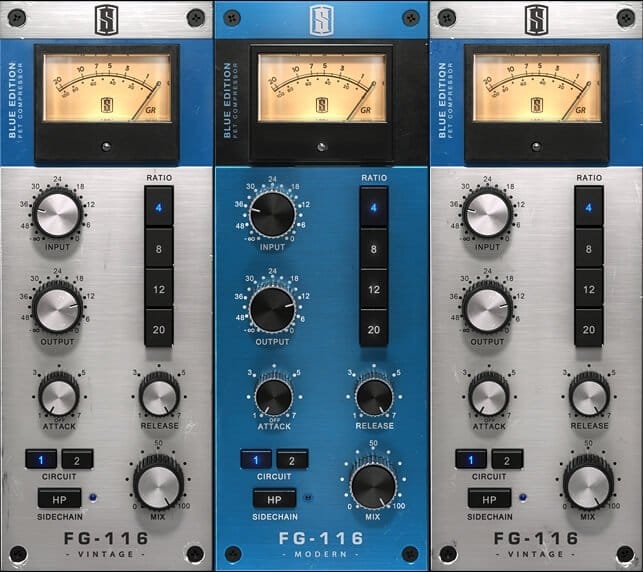 These compressors are really cool and both the vintage and modern add extremely useful new features that the hardware does not have and that's a high-pass side chain filter and of course a parallel mix knob.

FG-116 Blue Vintage recreates the sound of two "rev A" FET compressors. Both compressors sound rich, colorful, and musical. FG-116 Blue Modern is a custom revision of the classic FET compressor that offers two unique circuits that blend the old school tone with new school topology. The output transformers have been cleaned up so that it will have no output saturation, and the attack has been decoupled from the release so that it can be set much slower than the hardware for more transient articulation. Both circuits of the Blue Modern sound hifi, punchy, musical, and yet, they still can achieve the classic aggressive tone that makes the FET compressors so famous.
The FG-116 Blue Series FET Compressors for Windows and Mac (VST/AU/AAX) is available for purchase for $149 USD. The plugins are also included in the Everything Bundles.
Slate Digital has also introduced the Eiosis Air & Earth modules for the Slate Digital Virtual Mix Rack.
The Eiosis Air and Earth modules for Slate Digital's VMR can add unbelievable air, clarity, power, and punch to your tracks and mixes. They also have completely customizable Hi and Low Pass filters that can cover an extremely wide range of filtering needs.

The modules are free for members of Slate Digital's EVERYTHING Bundle.

Air EQ customers can get these modules for FREE since the Air EQ license will authorize these modules. Get them by downloading the latest Virtual Mix Rack installer.
The Air and Earth modules will be available from Eiosis soon. Price TBA.
More information: Slate Digital