ADSR has announced the launch of a new sample service within version 1.6 of the ADSR Sample Manager, a free sample management plugin for musicians.
Available as a plugin and standalone, it makes organizing, finding and auditioning audio samples refreshingly simple. Point it at your local or external drives and the plugin automatically tags and organizes all your samples in a flash or browse an ever expanding catalog of samples and loops from world-class sound designers.
ADSR's new sample service allows users to find and download individual sounds from a vast catalog of samples and loops created by the biggest names in the sound design industry and covering almost every genre and sound type for electronic music and beyond.
Users can access the service by purchasing bundles of credits for as little as $5 USD as they need them which can be exchanged for samples and loops from within the ADSR Sample Manager platform.
Of course by now we know that downloading single samples and loops isn't new, so what makes this offering different? Less of a traditional sample store and more of a sample service that adds creative context to the browsing experience. It is intended to enhance the workflow already offered by the ADSR Sample Manager.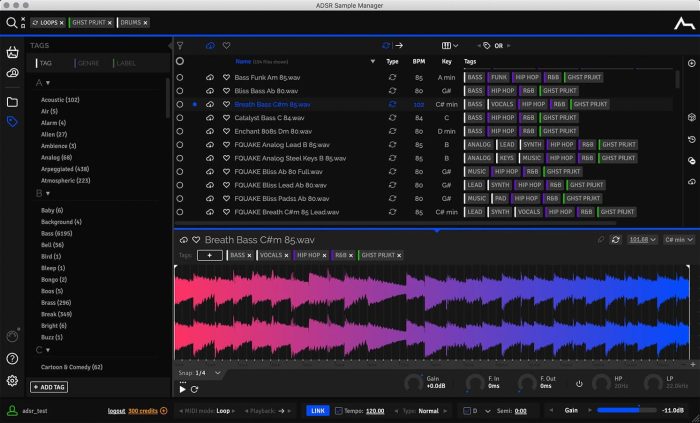 Users can take full advantage of all the features of ADSR Sample Manager including intuitive tagging, midi input, tempo and key sync, and a "find similar sounds" function and use them to audition a near unlimited catalogue of sounds as you're working on a project and without ever leaving that project.
Commenting on the new sample service, Steve Foulds, CEO, ADSR said:
"We're not reinventing the wheel here, but we are giving it a noticeably smoother ride. As musicians, our company is founded on helping our peers make better music. This new service expands your personal library infinitely. It makes finding the perfect sound a sure thing – you can literally listen, improv and even process in the context of your track before you buy! That's time, money and most importantly frustration saved."
Another major difference is the pricing, which allows you to pay as you go. This mirrors ADSR's commitment to nurturing and supporting musicians on all sides, whether its music producers and DJ's using samples to make music, or sound designers and beat makers making a living off creating production-ready samples.
In a bid to foster a fair marketplace that provides quality, choice and convenience to all, ADSR Sample Manager offers variable pricing tiers for different samples and loops and a pay as you go system with no lock in contracts or subscriptions required. There are a range of credit packages to suit different customer requirements, whether it's one sound now or hundreds every month.
"Paying only when and for what you need, means less time and money wasted on credits you can't use" added Mr Foulds, "at the same time, supporting designers with a fair price allows them to spend time making more original samples; giving you better quality creative content, that's a win for everyone."
The Sample Service is available now in the latest version of the ADSR Sample Manager v.1.6 along with a host of user driven updates and improvements.
ADSR Sample Manager features
Expand your library – Browse a near-unlimited library of sounds.
All your samples (local or cloud) tagged and searchable in an instant.
Standalone or VST/AU/AAX.
Hear samples in the context of your music with MIDI input.
Sync key and BPM to preview samples in context.
ADSR Account integration – browse your purchased samples in the cloud, preview in real time and download what you need.
Ableton LINK – sync your loops and one-shots with others using multiple devices running Link-enabled software / mobile apps.
Use multiple instances directly in your project.
Use with services like ADSRSounds, Splice, Noiiz and Loopcloud.
ADSR Sample Manager is a free tool with optional in-app purchases.
More information: ADSR