Five12 has announced version 4.1 of Numerology, a music sequencing and audio plugin environment which uses an innovative approach to electronic music composition based on modular step sequencing.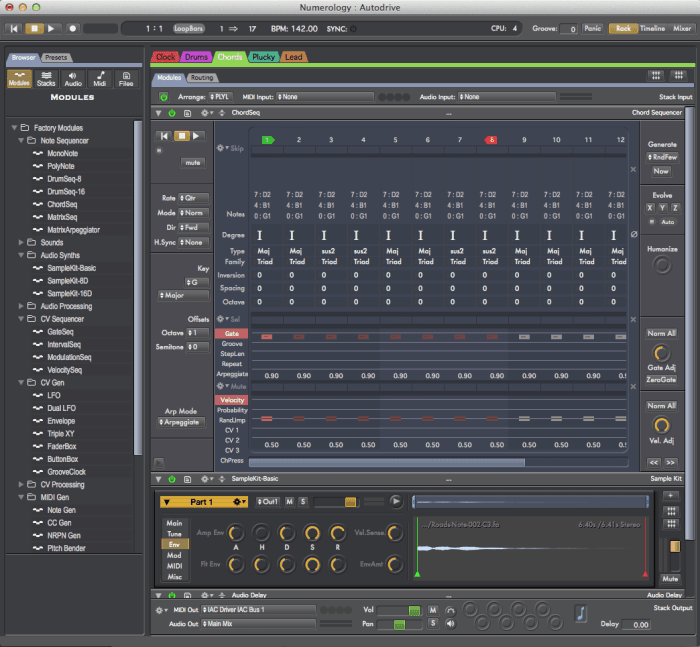 Numerology 4.1 adds a MIDI file import, support for the Novation Launchpad MkII and Launchpad Pro, some critical fixes for OS X El Capitan compatibility, and many other fixes and updates.
Changes in Numerology v4.1
MIDI Import: You can now drag-and-drop MIDI files into the MonoNote, PolyNote and DrumSeq modules. Each MIDI file will be imported as appropriate for each sequencer's capabilities.
The Novation Launchpad MkII and Launchpad Pro are now supported.
The DrumSeq module has two new Evolve operations: "Change Velocity Some For All Tracks", and "Change Velocity A Bit For All Tracks".
There are now 4 output ports for MIDI Sync in Numerology 4 Pro.
Keyboard : the 'poly' setting is now on by default.
Several updates to Numerology's Grid Controller Mapping, which covers the Ableton Push and all Launchpad variants:

On the Presets (a.k.a. Session) page, you can now toggle "exit loop" for a Stack's Playlist by holding down the Session button and pressing any key in the column for that stack.
On the SeqCtl page, for all sequencers, the button on row 4 (from top) and column 5 (from left) will trigger 'double seq'
The 'Alternate Edit' mode for the DrumSeq module, velocity edit, now supports up to 16 tracks. Use the 'Range' buttons to pick tracks 1-8 or 9-16.
DrumSeq: Updated colors for muting on the SeqCtl Page: Green Low for active, Yellow for playing, Red for muted.
DrumSeq: The SeqCtl page now supports mutes for all 16 drum tracks.

Various bug fixes.
Numerology 4 requires an Apple Macintosh computer with an Intel CPU running Mac OS X version 10.6.8 or later, 4GB RAM, and a screen resolution of 1024×768 or better. The Numerology 4 AU MIDI Effect requires LogicX and Mac OS 10.9 or later.
Numerology Pro is on sale for $169 USD through December 31st, 2015 (regular $199 USD) and Numerology SE is $109 USD (regular $129 USD). All upgrade options are on sale as well, with discounts ranging from 15% to 25% off.
In addition to the holiday sale, customers in Europe, U.K., Canada and Australia can now purchase Numerology (and upgrades) in their native currencies.
More information: Five12